How to send pictures by e-mail
using Outlook Express on a PC
This article is illustrated with screen captures from Outlook Express, The most commonly used e-mail program. The same principals apply to any e-mail program. Additionally, you need to know where your images are stored on your computer. Most programs use the "My Pictures" folder within your "My Documents" folder (illustration #3). Some programs offer you the option of e-mailing your photos. Make sure to NOT LET THE PROGRAM RESIZE your images for ZAPP. Resized images are too small to work on for digital jurying.
Do not point me to your ZAPP profile to capture your images or evaluate them. The original files that you uploaded are kept off line and are not accessible. All that is available on in your ZAPP profile is two different sizes of thumbnails, the larger is still only about a third the size of the originals. If someone previously worked on your images, you should have been provided with a CD which you can send me, or e-mail me the files copied from the CD. I need the originals to check for subtle details, like the proper embedded color space.
I do not charge for image evaluations
Illustration #1
Open Outlook Express and click on Create new Email (red arrow at the top left) and the New Message box will open.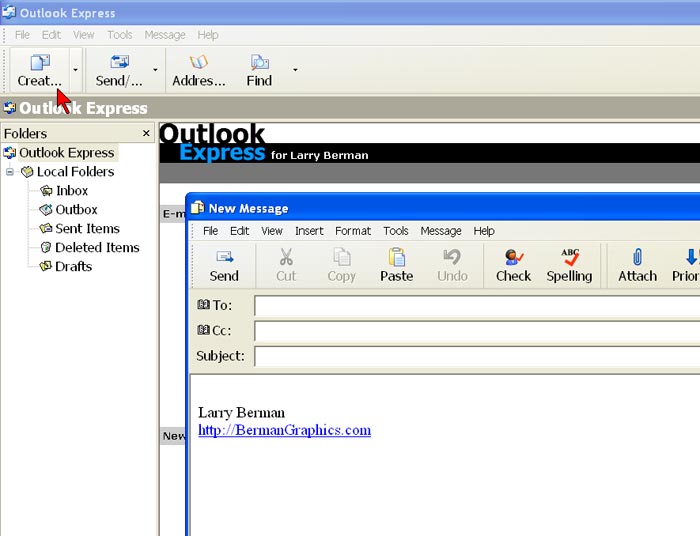 illustration #1
Illustration #2
Either click on Insert>File Attachment (highlighted in blue) or click on the Attach button with the paperclip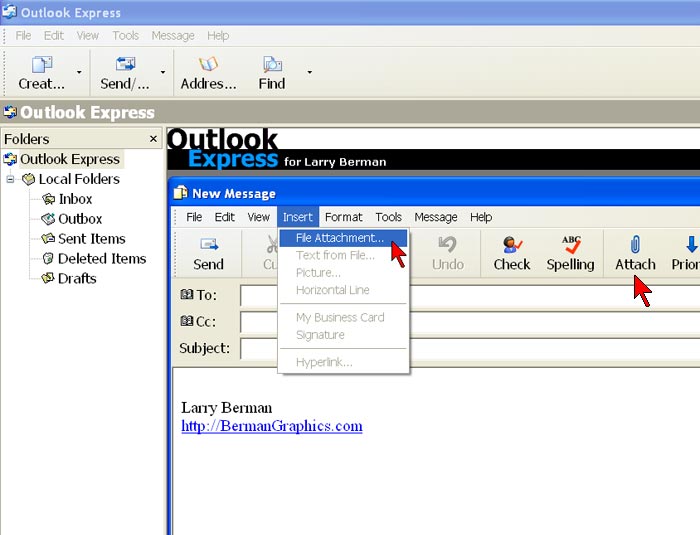 illustration #2
Illustration #3
When you click on File Attachment (or Attach), an Insert Attachment box will open and you need to navigate to the images you want to send by e-mail. If asked, I recommend copying the images to the desktop first. Then if you press the little up green arrow until you can't press it anymore it will take you to the desktop where your images are located. Please send me one image per e-mail.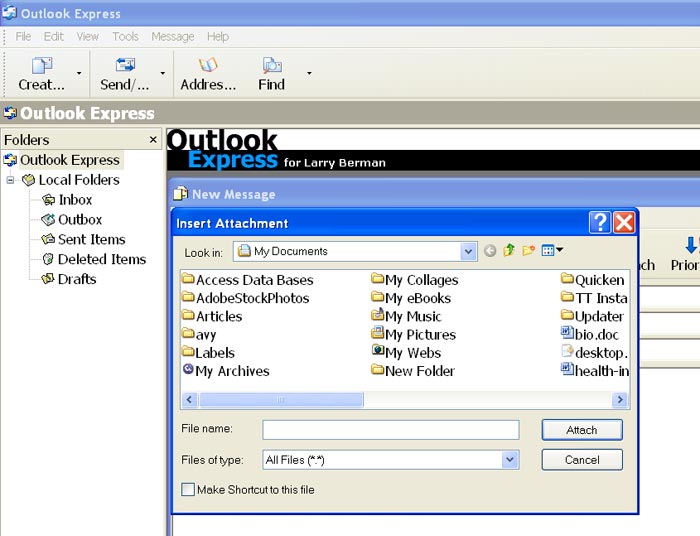 illustration #3